This program seeks to develop revenue generation for commercial real estate owners, affording them new revenue and rent opportunities using their existing energy assets
The program will involve portfolio health assessment, design, development, and implementation of turnkey clean electrification solutions for clients
Correlate and Abundant IoT seek to reduce friction between property owners and service providers, allowing them to meet their ESG goals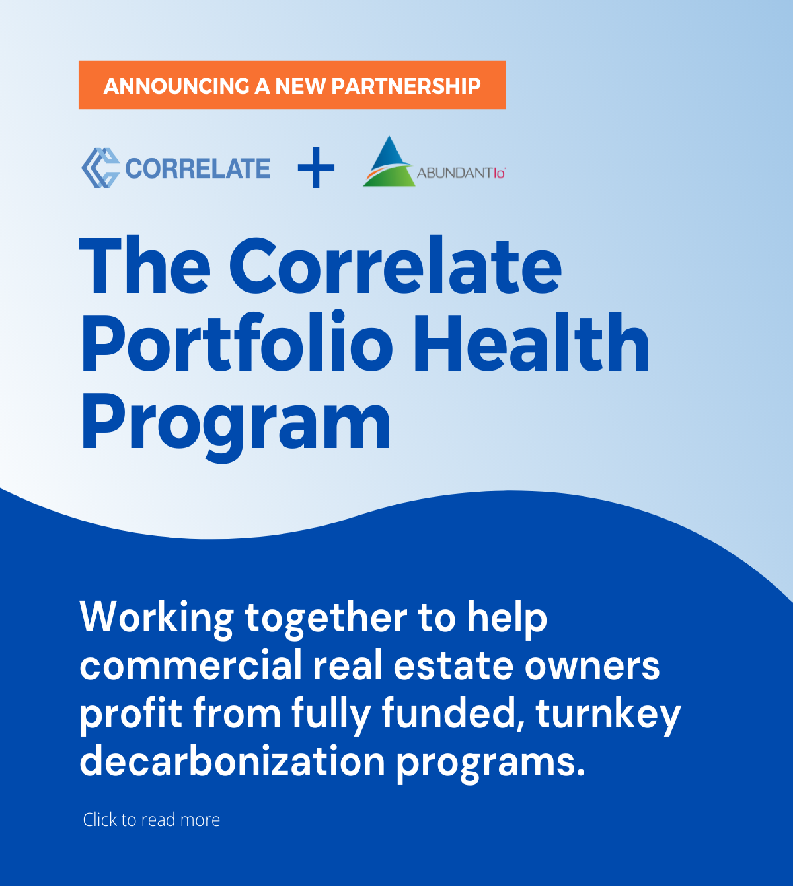 On June 21, 2022, Correlate Infrastructure Partners (OTCQB: CIPI) announced the official launch of its Correlate Portfolio Health Program, unveiled at the Channel Partner Conference and Expo that ran from April 11-14 in Las Vegas. The program, which will be executed in partnership with Abundant IoT, seeks to develop a revenue generation program for commercial real estate owners, thereby affording them new revenue and rent opportunities from their current energy assets (https://ibn.fm/URl9q).
"The path to full decarbonization will take ambition and intentional execution," noted Todd Michaels, Correlate's Chief Executive Officer ("CEO").
"By teaming up with industry innovators and experts, we can guide commercial real estate owners in creating new revenue and rent opportunities from their existing energy assets," he added.
Abundant IoT provides worldwide technology aggregation services focused on the Internet of Things ("IoT") and energy services. Since January 2022, this enterprise has identified and referred to Correlate over 50 commercial facilities with projected development revenue of approximately $10 million. Correlate is still in the process of pursuing and negotiating with the property owners.
Together, Abundant IoT and Correlate seek to reduce friction between property owners and service providers, thereby improving their net operating income while allowing them to meet environmental, social, and governance ("ESG") goals. In addition, these two enterprises recognize the opportunities in IoT and decarbonization. They are working towards tapping into this opportunity to bring their services closer to consumers.
"According to Transforma Insights research, the global IoT market is set to grow to 24.1 billion devices in 2030, generating $1.5 trillion in annual revenue," noted Vince Bradley, the founder of Abundant IoT.
"The time is now for IoT and decarbonization solutions in the channel," he added.
The Portfolio Health program will start with a portfolio health assessment. Once completed, Correlate and Abundant IoT will design, develop, and manage the implementation of turnkey clean electrification solutions focused on locally sited solar, energy storage, electric vehicle ("EV") infrastructure, and intelligent efficiency measures.
Ultimately, the objective is to enable commercial real estate owners to benefit from the global transition to clean energy without getting into the energy business. Through this program, entrepreneurs and real estate owners can start capturing new revenue and offering enhanced tenant benefits while simultaneously increasing the overall value of their commercial real estate portfolios.
The launch of this program comes in the wake of the rise in remote work, increased corporate decarbonization commitments, and growing investor demands for ESG standards. This has forced the commercial real estate sector to adjust, making the Correlate Portfolio Health Program ideal for generating long-term value for tenants, investors, communities, and employees.
"Cloud proliferation coupled with the pandemic has created the ideal market opportunity for a new channel model built around IoT. Combining energy, mobility, and connectivity with the devices is a very powerful go-to-market package for customers," noted Mr. Bradley.
For more information, visit the company's website at www.CorrelateInfra.com, including the following:
NOTE TO INVESTORS: The latest news and updates relating to CIPI are available in the company's newsroom at https://ibn.fm/CIPI