Prospera Energy Inc. (TSX.V: PEI) (OTC: GXRFF) (FRA: OF6B) is a public oil and gas exploration, exploitation and development company focusing on conventional oil and gas reservoirs in Western Canada. The company uses its experience to develop, acquire and drill assets with potential for primary and secondary recovery.
Prospera is primarily focused on optimizing hydrocarbon recovery from legacy fields through environmentally safe and efficient reservoir development methods and production practices. It is in the midst of a three-stage restructuring process aimed at prioritizing cost effective operations while appreciating production capacity and reducing liabilities.
The company is based in Calgary, Alberta, Canada.
Operations
Prospera's core properties include more than 42,000 cumulative acres across Cuthbert, Luseland and Heart Hills in Saskatchewan and Red Earth and Pouce Coupe in Alberta. In total, the company estimates that there are half a billion barrels of oil in place at these sites accounting for 20+ years of forward project lifespan, with as little as 8% of total reserves having been recovered via legacy vertical well technology.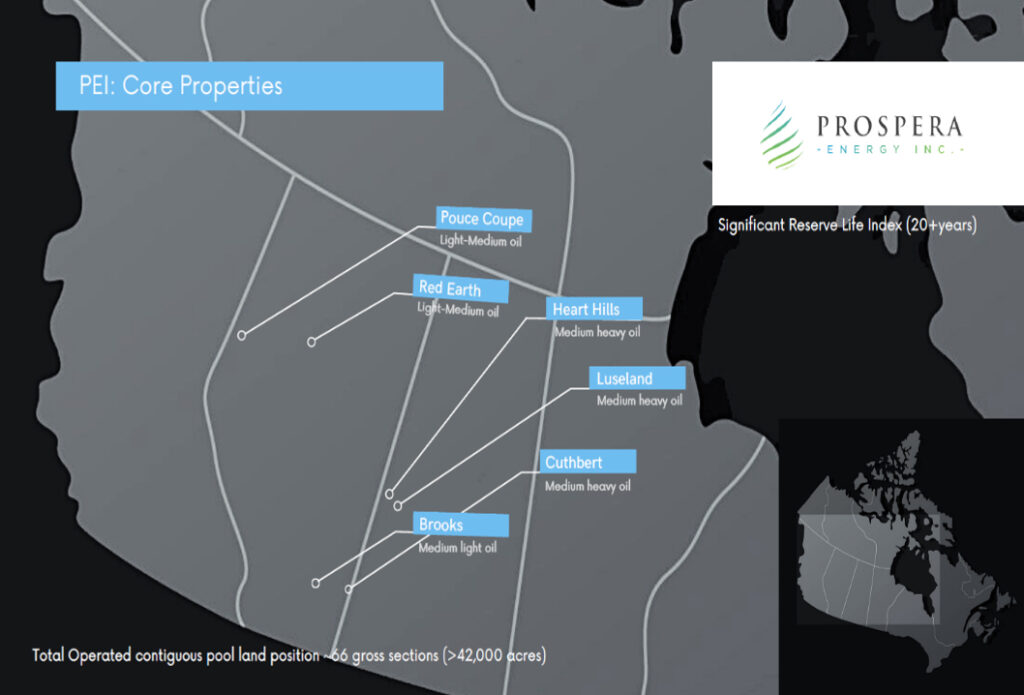 Restructuring Initiative
In 2021, Prospera enacted a top-down reorganization. The early results of these efforts were on display in May 2023, when the company reported a three-fold year-over-year increase in annual revenue for 2022 alongside drastically reduced operating costs and record-high cash flow from operations.
Prospera noted in the news release that it has positioned itself in 2023 to execute the second phase of its development plan aimed at increasing production through medium-oil development in Alberta and leveraging horizontal wells to capture the significant remaining reserves in Saskatchewan.
During the company's investor summit in August 2023, Prospera CEO Samuel David provided more information regarding this three-phase strategy:
Phase I
Prospera completed the first phase of its restructuring by optimizing operations at its existing assets and addressing legacy arrears and non-compliance issues.
At the beginning of this transformation, the company was producing just 80 barrels of oil equivalent (BOE) per day. In Q4 of last year, Prospera peaked at nearly 1,200 BOE per day. Its breakeven is around 500 barrels per day, illustrating the opportunity for free cash flow. This prospect has driven Prospera's capital development and optimization in recent quarters.
After a temporary slowdown in production due to harsh winter conditions, Prospera is currently producing about 800 BOE per day and anticipates an additional 300-500 barrels of daily production following the completion of ongoing site maintenance work.
This sustained increase has pushed the company's NPV from roughly $3 million prior to the restructuring efforts to approximately $72 million today.
In an effort to build on this progress and maximize its available resources, Prospera piloted two horizontal reentries to assess a potential horizontal well transformation at its properties.
Phase II
Following up on the optimization efforts of Phase I, Prospera aims to commence a horizontal well transformation at its properties in the coming months. Based on its pilot wells from Phase I, the company has proposed 10 horizontal well locations at its Cuthbert and Heart Hills properties.
Prospera has likewise proposed eight medium light oil direction wells at its Alberta property, and it is exploring strategic acquisitions aimed at expanding its core area and diversifying its product mix.
Other facets of Phase II include piloting an enhanced oil recovery (EOR) application and continuing to execute its liability management goals and ESG initiatives. Prospera has already abandoned 60 vertical wells as part of its three-year LMR plan to reclaim surface land and reduce the environmental footprint of its operations.
Phase III
Beginning next year, Phase III of Prospera's corporate redevelopment strategy will focus on continuing the company's horizontal modular development to appreciate production and optimize recovery of remaining reserves. Prospera intends to implement full-scale EOR applications based on the results of its Phase II pilot program, which is forecast to optimize recovery by greater than 10%.
Prospera also intends to continue its acquisition strategy to diversify its product mix. Its goal, as detailed by in August 2023 investor summit, is to attain 50% light oil, 40% heavy oil and 10% gas – all while continuing to eliminate carbon emissions as part of its existing ESG initiatives.
Poised for Growth
Following its transformational efforts in 2022, Prospera is poised to achieve record growth in 2023. The company has forecast significant reductions in production costs through 2024, alongside sizable increases in daily production.
| | 2021 | 2022 | 2023 (Projected) | 2024 Projected |
| --- | --- | --- | --- | --- |
| Oil Pricing (C$/bbls) | 62.45 | 97.30 | 73.73 | 68.87 |
| Barrels per day (Gross) | 193 | 427 | 1,297 | 2,253 |
| Barrels per year (Gross) | 70,623 | 182,383 | 473,272 | 823,163 |
Prospera is currently exploring strategic acquisition targets to potentially increase its production beyond 5,000 BPD while expanding its reserve base to a billion barrels.
Market Opportunity
While the oil and gas industry faces long-term geopolitical and macroeconomic uncertainty, there is a clear trend to secure supply in the short term. According to Deloitte, the global upstream industry ended 2022 with some of the highest free cash flows on record, driving reinvestment in hydrocarbons and overall investment in clean energy.
The Energy Information Administration recently forecast a dip in global oil inventories over each of the next five quarters, placing upward pressure on oil prices. The agency further forecasts a YoY increase in fuel consumption, exacerbating the effects of OPEC+ production cuts that are set to remain in place through 2024.
For Prospera, these forecasts are promising. The company aims to build on its recent financial growth in the coming months (Prospera reported a three-fold YoY increase in revenue to $13.9 million in 2022), hitting a projected $57 million in total revenue by the end of 2024 while working to expand its core area holdings through accretive M&A transactions.
Leadership Team
Prospera is led by a team with extensive, diverse petroleum industry experience spanning both reservoir management and operations of oil and gas assets. The team boasts a proven track record of reorganizing companies, structuring financing arrangements and positioning for growth.
Samuel David is the company's President and CEO. He brings to Prospera over 32 years of experience in operation, development and management of oil and gas assets and companies. Mr. David holds a B.Sc. in Mechanical Engineering and a B.A. in Economics from the University of Calgary. His background consists of both engineering and executive management experience with majors Petro-Canada, AEC Oil & Gas (now EnCana / Cenovus) and Husky Energy, as well as founding and operating juniors Ventura Energy and First West Petroleum. Mr. David has proven expertise in corporate planning, production, reservoir engineering, depletion strategies, EOR, property evaluations, acquisitions and divestitures.
George Magarian is VP Subsurface for Prospera. He is a professional petroleum geologist (APEGA) with over 36 years' experience in the Western Canada Sedimentary Basin. After graduating with an Honors B.Sc. degree in Earth Science from the University of Waterloo, Mr. Magarian spearheaded many successful exploration programs, conducted evaluations for improved recovery schemes and assessed/exploited unconventional oil reservoir opportunities. He has held roles of increasing responsibility, from exploration geologist at oil industry major Petro-Canada and intermediates Anderson Exploration and Jordan Petroleum, to geoscience manager and VP exploration at junior companies Ionic Energy, Gentry Resources and Westfire Energy.
Chris Ludtke is the company's VP Finance & Accounting. He is a high functioning finance leader with extensive expertise in finance, budgets and planning, accounting, economic evaluation, management, governance and sound decision making. Mr. Ludtke has 20 years of experience within the oil and gas, clean energy and renewables industries, including 12+ years working for Husky Energy before moving into an executive role in the junior oil and gas and hydrogen space. He graduated from the University of Lethbridge (Bachelor of Management) and is a Chartered Professional Accountant in the Province of Alberta.
Matthew Kenna is the CFO of Prospera. He has over 30 years' experience leading organizations and helping them expand, drive efficiencies and grow profitability. Mr. Kenna is a professional accountant (CPA, CMA) and spent 15 years heading up the financial and operating departments at KUDU Industries, where he fostered financing arrangements, client relationships and manufacturing teams to take the organization from $35M to $150M in revenue. He has extensive experience turning companies around, growing them and building efficient organizations.
Investment Considerations
Prospera's holdings include significant remaining reserves totaling an estimated half a billion barrels of oil across more than 42,000 acres in Saskatchewan and Alberta.
Following a top-down reorganization in 2021, the company is poised to rapidly expand its production in the coming months while implementing key ESG initiatives to reduce the environmental footprint of its operations.
Prospera is exploring a potential acquisition opportunity that could see its production capacity expanding beyond 5,000 barrels per day.
The company is led by a team with extensive, diverse petroleum industry experience and a proven track record of reorganizing organizations, structuring financing arrangements and positioning for growth.
Additional Resources