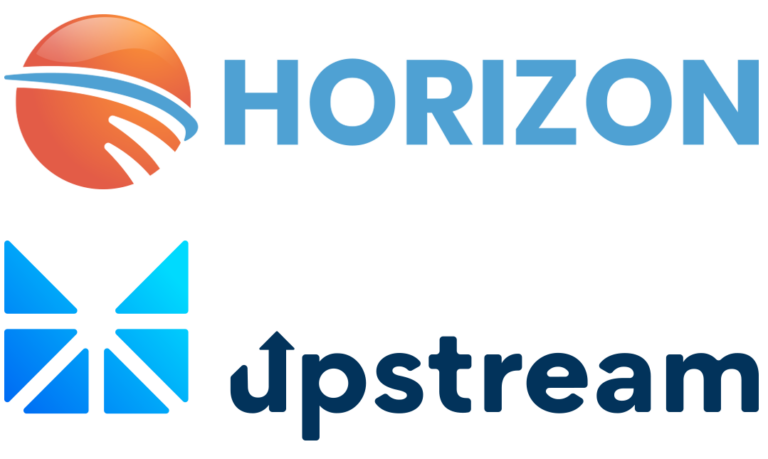 Horizon Fintex is a software business specializing in compliant securities solutions. The company aims to facilitate the future of capital markets by leveraging the regulatory experience of Wall Street bankers and the proven track record of technology veterans to bring focus to compliance, efficiency, security and transparency.
Horizon's flagship product is the revolutionary trading app 'Upstream', a MERJ Exchange Market, and the first regulated market powered by a blockchain to offer both digital securities and NFT trading. Upstream traders experience T+0 settlement, best bids and offers displayed on a transparent public orderbook that prevents predatory market practices – all from a user-friendly trading app.
Products
Horizon Fintex offers a full suite of end-to-end blockchain-enhanced software solutions to create a seamless experience for both issuers and investors. Its product suite includes:
Upstream – The Horizon-Powered Trading App
Upstream is a joint venture with MERJ Exchange (merj.exchange), an affiliate of the World Federation of Exchanges.
Upstream aims to be the premiere global trading hub offering issuers around the world exposure to a digital-first investor base that can trade using USDC digital currency along with credit, debit, PayPal, and USD (fiat) to increase liquidity and enhance price discovery; while also offering investors access to dual-listed companies, IPOs, crowdfunded companies, U.S. & Int'l. equities, digital coupons and NFTs directly from a user-friendly trading app.
Upstream aims to unlock liquidity for investors of all levels while offering industry-leading levels of transparency, accessibility and investor protections enforced using Ethereum blockchain technology.
Management Team
Brian Collins is the CEO of Horizon Fintex. He founded the company in 2010. From 1999-2010, Mr. Collins was CEO of Abbey Technology in Switzerland, specializing in the design of trading software for Swiss banks. Prior to this, he worked for Credit Suisse in Zürich, designing and building proprietary equity trading solutions. Mr. Collins graduated in 1990 with a BS in Computer Systems from the University of Limerick, Ireland.
Mark Elenowitz is the company's President. He is a Wall Street veteran with over 29 years of experience. Mr. Elenowitz was the co-founder of a U.S. broker dealer and is Managing Director of two U.S. broker dealers, responsible for advising clients on compliance, capital structure and capital market navigation. He was responsible for leading the first successful Reg A+ IPO of a company to list on the NYSE and others which listed directly onto Nasdaq. He is a noted speaker at Small Cap and Reg A events, including the SEC Small Business Forum, and has been profiled in BusinessWeek and CNBC, as well as several other publications. Mr. Elenowitz is a graduate of the University of Maryland School of Business and Management with a BS in Finance and holds Series 24, 62, 63, 79, 82 and 99 licenses.
Dr. Andrew Le Gear is the CTO of Horizon Fintex. Prior to joining the company in 2013, he worked as a software engineer with Dell Inc. (2012-2013) and Lehman Brothers and Nomura Plc. (2007-2012). Dr. Le Gear was a co-founder of Juneberi Ltd., a research-driven software tech start-up (2004-2007). He graduated in 2006 with a Ph.D. in Computer Science from the University of Limerick, Ireland.
Peter Hall is the company's CIO. Prior to joining Horizon Fintex in 2011, he worked at Microsoft (2008-2011), Atos Origin (2004-2008) and AIT Group Plc. (1998-2002). Mr. Hall has held CISSP certification since 2010. He graduated from the University of Sheffield, UK in 1995 and earned an MS from the University College London in 2006.
Mike Boswell is the CFO of Horizon Fintex. A Wall Street veteran, he co-founded a U.S. broker dealer and served as Chief Compliance Officer. Mr. Boswell was also Managing Director of TriPoint Capital Advisors, a merchant banking and financial consulting company, and CFO of Mission Solutions Group, a privately held defense sector firm. He earned an MBA from John Hopkins University and a BS in Mechanical Engineering from the University of Maryland. Mr. Boswell holds Series 24, 62, 63, 79, 82 and 99 licenses.
Notable Highlights
Horizon Fintex, listed in the FINRA compliance vendor directory, is working to build an interoperable, robust collection of tools to power the next generation of capital formation and secondary trading.
Upstream, the Horizon-powered exchange, is actively accepting listing applications from NASDAQ, NYSE, OTC Markets & International Issuers aiming to unlock liquidity globally.
Upstream offers a secure onramp for issuers to leverage web3 cryptographic solutions and engage investors with digital coupons (NFTs) redeemable for products and experiences to build shareholder loyalty, capture new customers and create ongoing sales.
Upstream uniquely features forward-thinking KYC/AML compliance measures, FDIC insurance for all cash accounts and next-level investor protection.
Horizon Fintex's management team combines the regulatory experience of Wall Street bankers and the proven track record of technology veterans.
Additional Resources