First Tellurium Corp. (CSE: FTEL) (OTCQB: FSTTF) is committed to exploring for and providing essential and critical metals, including tellurium, gold, silver, copper and tungsten, for North American markets. This objective is anchored by the company's Deer Horn tellurium-gold-silver-copper project in British Columbia, Canada, and further enhanced by its property option on the Klondike tellurium-gold prospect located in Colorado, USA.
First Tellurium's unique business model is to generate revenue and value through mineral discovery, project development, project generation and cooperative access to untapped mineral regions in indigenous territory with sustainable exploration potential.
The company is headquartered in Vancouver, British Columbia.
Tellurium and the Green Energy Revolution
Tellurium has a key role to play in the ongoing green energy revolution. It is widely used in the manufacturing of photovoltaic cells for solar panels.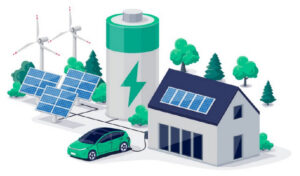 Despite this utility, ongoing trade tensions between China and the U.S. create implications for both tellurium and the production of cadmium-tellurium solar cells. Earlier this year, China announced plans to restrict exports of critical metals gallium and germanium, both essential for the production of semiconductors. For reference, China produces around 80% of the world's gallium and approximately 60% of the world's germanium.
China's recent trade restrictions amplify the fragility of the North American tellurium supply, as the Asian nation currently produces about 60% of the world's tellurium. This sustained supply vulnerability is why First Solar, the United States' largest solar panel producer, set up a worldwide search for tellurium deposits in the mid-2000s.
"In North America alone, our understanding is that First Solar looked at over a hundred tellurium properties," First Tellurium CEO Tyrone Docherty stated in a news release. "Their number one property by far, which they acquired, was the Colorado Klondike which we now control."
The U.S. is now looking to secure safe, domestic sources of tellurium and many other critical metals to pre-empt potential shortages. The Biden administration has instituted a stream of policies, particularly the U.S. Inflation Reduction Act, to source solar components from North America and other "friendly" jurisdictions.
As the only junior mining company in the world focused on tellurium exploration, First Tellurium is ahead of the curve in capitalizing on these initiatives to establish strategic, domestic supplies of key resources for solar panel manufacturers.
First Tellurium's ESG Initiatives
Through its exploration and partnerships with Fenix Advanced Materials, Cheona Metals and IRMA, First Tellurium strives to generate a measurable, beneficial social or environmental impact alongside a financial return. The company conducts a diversified search for metals, working in alliance with indigenous peoples, NGOs, governments and leading metals buyers. First Tellurium believes this is the future of mineral exploration — generating revenue by exploring responsibly and leveraging diverse partnerships.
First Tellurium proudly adheres to, and supports, the principles and rights set out in the United Nations Declaration on the Rights of Indigenous Peoples and, in particular, the fundamental proposition of free, prior and informed consent.
Projects
Deer Horn Tellurium-Gold-Silver-Copper Project
Deer Horn is located on 51.33 square kilometers (km) in west-central British Columbia, 36 km south of the prolific Huckleberry copper-molybdenum mine and 135 km southwest of the community of Burns Lake. It is one of few significant tellurium discoveries outside Asia and includes a 2.4 km-long vein system of high-grade gold, silver and tellurium, as well as broader zones of bulk-tonnage gold, silver and tellurium mineralization. The company completed a positive Preliminary Economic Estimate and has begun permitting for a 10,000-tonne bulk sample program to advance the project toward mine feasibility. It is North America's only silver-gold-tellurium property with an NI 43-101 compliant tellurium resource, and it hosts a number of other mineralized targets and zone containing critical metals such as copper, tungsten and zinc.
First Tellurium owns 50% of the property, with an option to acquire up to a 75% interest. The company has engaged Dias Geophysical of Saskatoon, Saskatchewan, to conduct induced polarization (IP) geophysics on the Deer Horn Project in summer 2023. The program is designed to help develop drill targets for a subsequent drilling program.
Klondike Gold-Tellurium Project
The Klondike property is located in Saguache County, Colorado, southwest of Buena Vista in the state's historical mining district. The company reports it has engaged Burgex Mining Consultants of Sandy, Utah, to stake additional claims around the Klondike property. The claims have been filed with the Bureau of Land Management.
Klondike demonstrates exceptional tellurium grades. Tellurium, used in high-efficiency cadmium telluride (Cd-Te) solar panels, next-generation lithium-ion batteries and thermoelectric devices to change heat into energy, is an essential element for the world's transition to green energy.
The Klondike property was a top tellurium prospect owned previously by First Solar Inc., one of the world's largest solar panel producers. First Solar terminated its worldwide raw materials exploration program in 2012 and sold the property to Colorado Klondike LLC, which optioned the project to First Tellurium. Colorado Klondike, led by First Solar's former Exploration Manager in North America, is managing the upcoming exploration program.
The Colorado Geological Survey (CGS), in partnership with the Colorado School of Mines, reported on First Solar's exploration at Klondike in 2015, noting: "Surface sampling by First Solar, Inc. in 2006 found very high tellurium grades of up to 3.3% (33,000 ppm), along with locally high gold grades. Tellurium grades at Klondike were the highest encountered in the company's nationwide exploration program."
Market Outlook
First Tellurium in spring 2023 referenced recent forecasts by the International Energy Agency (IEA) pointing to rapid growth in solar photovoltaic (solar PV) deployment worldwide. According to the agency, solar PV installations will generate more power by 2027 than any other energy source, including coal, natural gas and hydro. To meet this demand, consumption of both silver and tellurium, key components of solar panels, is expected to surge in coming years.
Chen Lin, founder of Lin Asset Management, has written in his investment newsletter for clients that solar PV is now the largest industrial usage of silver. He said that in 2022 solar PV production used about 12% of total silver demand, or about 120 million ounces of silver. Lin expects this number to rise dramatically in the coming years, and that is likely to lead to silver supply deficits for decades to come.
Lin points out that solar power is now the cheapest source of energy in many parts of the world and that all forecasts point to dramatic expansion of solar PV in the coming two decades. Conservative estimates forecast 300 gigawatts of solar PV production by 2027, up from the current level of about 200 gigawatts.
Management Team
Tyrone Docherty is President, Director and CEO of First Tellurium Corp. He previously served as President and CEO of Quinto Mining Inc., taking over when it had a market cap of $4 million. With limited resources in a difficult market environment, he raised more than $30 million and advanced Quinto's Quebec iron ore property to a viable project. Quinto later sold for $175 million, with Quinto management taking shares of the purchaser, Consolidated Thompson Iron Mines, amounting to approximately 20-21% of that company. Consolidated Thompson Iron Mines sold two years later for $4.9 billion, giving the former Quinto team an enterprise value of approximately $1 billion. From 2012 to 2018, Mr. Docherty was Director and Chairman of Mason Graphite Inc. He has worked in the financial and minerals markets for more than 30 years.
Tony Fogarassy, M.Sc. LL.M., is Chairman of First Tellurium Corp. He is a lawyer and a geologist. His extensive legal and technical expertise includes minerals, oil and gas, coal and renewable energy projects and environmental and aboriginal/indigenous law in North America, Africa and Asia. He graduated as gold medalist in geological sciences from the University of British Columbia and in law from the London School of Economics.
Investment Considerations
First Tellurium in June 2023 successfully uplisted from the OTC Pink Market to the OTCQB Venture Market.
First Tellurium has contracted for IP geophysics on its Deer Horn Project during summer 2023 to develop targets for a drilling program.
The company has engaged consultants to stake additional claims around its Klondike gold-tellurium project in Colorado.
Key applications for tellurium include high efficiency cadmium telluride solar panels, next-gen lithium-ion batteries, semiconductors, thermoelectric devices, phase-change memory chips and low-energy desalination.
The company plans to investigate and acquire other tellurium projects in North America.
Additional Resources