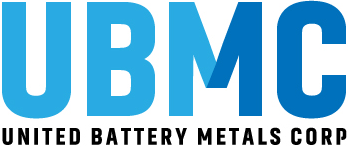 United Battery Metals Corp. (CSE: UBM) (OTC: UBMCF) (FWB: 0UL) is a vanadium exploration company focused on becoming the first vanadium producer in North America. The company's flagship project is the Wray Mesa Project, an exploration-stage vanadium property located in Montrose County, Colorado. The property consists of over 107 contiguous mining claims on about 3000 acres. United Battery Metals recently announced that it has tripled its vanadium rich land package in Colorado and Utah. The claims are located on land where both the surface and mineral ownership is held by the Bureau of Land Management (BLM) of the U.S. Department of Interior. Valid unpatented mining claims grant the holder the right of mineral possession as allowed by the General Mining Law of 1872, subject to the various state and federal rules and regulations pertaining to mineral exploitation.
Global demand for vanadium as a strategic metal has exploded in recent years. Vanadium price surges have hit recent highs of approximately $22.63 per pound from about $9 per pound last year.  As a result, mining companies are returning to exploration efforts for vanadium.
The Wray Mesa Project area is part of the La Sal Creek District, which has a long history of exploration and production efforts with records showing drill exploration likely started there in the late 1940s with geologists from the U.S. Geological Survey (USGS) and the Atomic Energy Commission, then continued from the 1960s through the 1980s with private sector interests involved. Based on historical records, the Wray Mesa Project appears to have very good to excellent potential with an inferred resource of 500,000 pounds of uranium- and a current estimated vanadium resource of 2,640,000 pounds as per the last 43-101 prepared in 2013 by Anthony Adkins who is a qualified geologist.
The world's vanadium demand is set to increase significantly as China implements tighter controls over this critical element as it is used in infrastructure to strengthen steel. With trade war tensions mounting, the U.S. will likely be in dire need of a domestic supply of vanadium for use in steel plants opening nationwide and grid power storage. In fact, the White House has deemed vanadium one of 35 critical elements to United States national and economic security (USGS). US Steel announced additional plants opening nationwide, and this bull market in domestic steel production is likely to increase the demand for a domestic source of vanadium as China has begun restricting vanadium exports to the U.S. amid mounting tensions between the two countries over tariffs and certain critical elements such vanadium.
UBM utilized resource estimation software to model the mineralization detected in a number of the 715 historical and 24 recent drill holes within the project area. Results of the model run, minus the estimated effects of the historic mining, identify an indicated resource of approximately 85,500 short tons at an average grade of 0.16% eU308 for a total of 271,000 pounds of contained uranium. Inferred resources total 57,400 short tons at an average grade of 0.15% of eU308 for a total of about 169,000 pounds of contained uranium. The vanadium resource for the two categories, based on a conservative V:U ratio of 6:1, is 1,626,000 (O.95% average grade) and 1,014,000 (0.88% average grade) pounds, respectively.
Vanadium has multiple uses in modern society including being used in vanadium redox flow batteries ("VRFBs"), car charging stations, nuclear power plants and in steel manufacturing. An article in Mining.com notes that vanadium pentoxide (V2O5), which is used in the production of VRFBs used in energy storage systems, breached US$20 a pound in September 2018 for the first time since 2005, a four-fold increase from the start of 2017.
California recently announced that all homes and mid rises must install solar panels by 2020. Vanadium redox flow batteries (VRFBs) are by far the most superior batteries for large scale energy storage systems and the reason why the Vanadium Redox Flow batteries will dwarf the lithium battery demand. California was the first to announce this green initiative and many experts expect that the revolution will be implemented nationwide in the near future.
Vanadium is one of the 35 minerals deemed critical to the national security and economy of the United States. Among the important uses of vanadium are the following:
Fast-charging VRFBs have unique characteristics making them especially attractive when compared to conventional batteries. VRFBs can operate at any temperature, be charged and discharged at the same time, have greater design flexibility and a 25-plus year lifecycle. VRFB's promise to be a major player in the green energy storage revolution because they are 100 percent reusable, recyclable, are nonflammable, compact, able to provide large grid energy storage, can be fully contained and are seen as a viable alternative to lithium-ion batteries.
VRFBs can be used in a variety of energy storage applications including microgrids, during peak shaving periods and for load leveling, as an uninterruptible power supply, for wind and solar farms, and as an off-grid power supply.
Approximately 85 percent of vanadium produced is used as ferrovanadium or as an additive to strengthen and harden steel used for applications in axles, crankshafts, gears, surgical instruments and tools, knives, jet engines, high-speed airframes, dental implants, and in seamless tubing for the aerospace, defense and bicycle industries.
Vanadium alloys are used in nuclear reactors because of the metal's low neutron-absorbing properties.
The management team at United Battery Metals Corp. includes president, CEO and Director Matthew Rhoades, the former State Geologist for New Mexico and an accomplished professional geologist with direct working experience in exploration and development projects at numerous deposits and mines throughout the American West, Canada, Mexico and South America. He is joined by George Sharpe, a qualified Mineral Exploration Geoscientist, QP, MCIM and CGT, with over 23 years of global mineral exploration in iron coal, gold, base metals, rare earths, uranium, PGE's, diamonds, iron and industrial minerals.
Investment Considerations
According to Cairn Energy Research, the global stationary energy storage market will grow from 3.7 GWh in 2018 to 8 GWh in 2020. By 2027, the market is expected to grow to 87.7 GWh.
Vanadium is one of the 35 minerals deemed critical to the national security and economy of the United States.
Vanadium redox flow batteries have lifespans of over 20 years without capacity loss, are non-flammable, easily recyclable, can operate at any temperature and be charged and discharged simultaneously making it highly suitable for large-scale storage from renewable sources such as solar and wind when connected to an electricity grid.
Prices of vanadium pentoxide, the key raw material needed in vanadium-flow batteries, have been on an uptrend in the past few years, increasing from under US$3 per pound less than three years ago to the current price of above US$20 per pound.