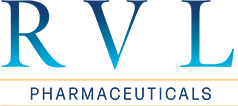 RVL Pharmaceuticals plc (NASDAQ: RVLP) is a specialty pharmaceutical company focused on the commercialization of UPNEEQ® (oxymetazoline hydrochloride ophthalmic solution), 0.1%, which is available by prescription for the treatment of acquired blepharoptosis, or low-lying eyelid(s), in adults.
UPNEEQ® (RVL-1201) is the first non-surgical treatment option approved by the U.S. Food and Drug Administration (FDA) for acquired blepharoptosis. The company received FDA approval in July 2020 and launched UPNEEQ® in September 2020 to a limited number of eye care professionals, with commercial operations expanded in 2021 among ophthalmology, optometry, and oculoplastic specialties.
In February 2022, UPNEEQ® was launched into the medical aesthetics market in the United States. Patients can purchase UPNEEQ® from eye care or medical aesthetic professionals, or through RVL Pharmacy LLC, the company's wholly owned pharmacy. The company plans to promote UPNEEQ® to people with acquired ptosis and those who are bothered by low-lying lids. RVL Pharmaceuticals believes there is a significant commercial opportunity for UPNEEQ®, given the meaningful unmet need for a non-invasive treatment across millions of acquired-ptosis patients in the United States. The company's near-term focus is to continue the rollout of UPNEEQ® into the medical aesthetics market through its dedicated aesthetics sales force while continuing to support ongoing utilization and expanded penetration of UPNEEQ® in ocular medicine markets.
RVL Pharmaceuticals continues to raise patient and physician awareness of acquired ptosis and UPNEEQ® through medical conferences, HCP and DTC advertising, social media (e.g., Facebook and Instagram), and marketing partnerships.
The company is incorporated in Ireland and headquartered in Bridgewater, New Jersey.
UPNEEQ®
UPNEEQ® is an oxymetazoline hydrochloride ophthalmic solution for the treatment of acquired blepharoptosis, or low-lying eyelid(s), in adults. It is the first and only FDA-approved ophthalmic solution for this indication.
The once-daily UPNEEQ® eye drop has been shown in clinical trials to result in an average one-millimeter lift of the upper eyelid, and to improve superior visual field in patients with a functional deficit. Patients' eyelids demonstrate lift in as little as five minutes post dose, with the lift effect lasting as long as eight hours. The preservative-free solution is safe and well-tolerated. Trials demonstrated side effects similar to those of placebo.
The active ingredient in UPNEEQ® is oxymetazoline 0.1%, a direct-acting α-adrenergic receptor agonist that targets receptors in the Müller's muscle, which causes the muscle to contract and lift the upper eyelid. UPNEEQ® delivers eye-opening results for patients along the entire spectrum of age and condition severity.
UPNEEQ's health care provider customers include optometrists, ophthalmologists, oculoplastic surgeons, facial plastic surgeons, dermatologists and a broad range of practitioners qualified to diagnose and treat acquired blepharoptosis in adults.
The target patient population comprises adults with droopy or low-lying eyelids, the majority of whom are female. While the exact prevalence of acquired ptosis is unknown, RVL Pharmaceuticals believes it to be a common age-related condition.
Market Opportunity
A survey of eye care providers and medical aesthetics specialists revealed that they believe that approximately half of adult patients visiting their practices are affected by droopy or low-lying eyelids. Further, the company estimates that approximately 60% of adult women self-identify as having some degree of droopy or low-lying eyelids, and a majority of those women indicate that they are bothered by the position of their eyelids.
The global medical aesthetics market is expected to reach a value of $18 billion in 2027, rising at a compound annual growth rate of over 10%, with North America representing the largest share of the global market. Similarly, the global eye care market is expected to reach a value of $86 billion by 2026, rising at a compound annual growth rate of over 6%. An estimated 100 million adults visit an eye care provider each year in the United States alone.
RVL Pharmaceuticals believes the growth in medical aesthetics and eye care markets will be driven by an aging population and increasing life expectancy, which is resulting in more consumers with a desire for improved appearance and well-being over a longer period of time. Other contributing factors include rising disposable income globally and in the U.S.; growing awareness, utilization, and acceptance of elective or minimally invasive and non-invasive interventions; and continued innovation and improved accessibility to treatments due to an increase in the number of physicians who offer eye care and medical aesthetics services.
Management Team
Brian Markison is Chairman of the Board and Chief Executive Officer of RVL Pharmaceuticals. He has more than 30 years of operational, marketing, commercial development, and sales experience with international pharmaceutical companies. He previously served as the President and CEO of Fougera Pharmaceuticals Inc., a specialty pharmaceutical company. Before that he was Chairman and CEO of King Pharmaceuticals Inc. He also held various senior leadership positions at Bristol-Myers Squibb. He received a bachelor's degree from Iona College.
James Schaub is Executive Vice President and Chief Operating Officer of RVL Pharmaceuticals. Prior to that he served as COO of Trigen Laboratories. He previously was Vice President, M&A of Fougera Pharmaceuticals. Before that he spent five years with King Pharmaceuticals. Mr. Schaub holds a bachelor's degree in economics from Middlebury College and an M.B.A. from Rutgers Business School.
Investment Considerations
For the quarter ended June 30, 2023, RVLP reported net sales of $8.3 million and operating expenses of $14.4 million, down 2% and 32%, respectively, compared to the prior year period; this strategy is designed to extend cash runway for future business development and changes in the company's marketing mix.
The company's marketing partner, Santen, has commenced the required registrational trial for UPNEEQ® in Japan and plans to begin the same in China in 2023.
UPNEEQ® has strong U.S. intellectual property protection, with patents extending to 2039.
RVL Pharmaceuticals launched its prescription ecommerce platform, Elevate, in July 2023, allowing providers and patients to purchase RVL products and sign up for auto-refills.
UPNEEQ® consumer awareness remains very low among U.S. adult women, presenting a major opportunity to increase awareness and demand through Direct-to-Consumer efforts.
Additional Resources