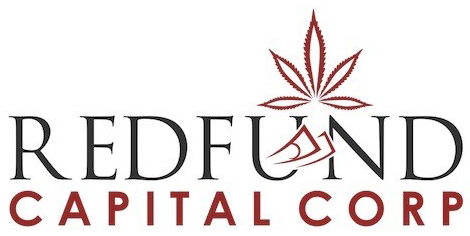 Redfund Capital Corp. (OTCQB: PNNRF) (CSE: LOAN) (FF: O3X4) is a merchant bank focused on providing debt and equity funding in the mid to late stages of a target company's development and for technologies that are developed and validated by revenues. Redfund's current focus is on medical cannabis, hemp and cannabidiol (CBD) related and healthcare-related companies.
As the first medical cannabis incubator and accelerator financing medical cannabis, CBD and hemp companies through a debt facility, Redfund is effectively bridging finance gaps and helping revenue-producing medical cannabis-related companies grow and build their valuations without prematurely diluting their equity.
The central components of the company's business strategy are:
Establishing the foundation of a loan portfolio that generates revenues through monthly interest income from loans to cover all general and administrative expenses related to day-to-day operations.
Growing shareholder value by converting all or part of loans and warrants into equity in portfolio clients as clients build their valuations by entering the public markets or becoming the high-priced targets of larger entities.
Redfund was designed by bankers and entrepreneurs possessing years of experience in business, consulting, capital markets, corporate finance and healthcare services. The company is actively looking beyond borders and creating global companies that have strong fundamentals and are ready to expand.
Redfund's investments are deployed to companies that have demonstrated success in their business but need a capital bridge in order to expand. Redfund's team of professionals vet every project and analyzes each prospective client's financials and business plans. Once a project is approved, Redfund's legal team carefully scrutinizes the collateral used to securitize the individual loans.
The strategy employed by Redfund includes:
Diversifying investments in Canada and other countries
Building an international footprint with established national leaders
Funding new drug delivery systems and helping nutraceuticals become mainstream drugs
Introducing companies to Canada as a viable option for public listings
Becoming a premier go-to lender for established companies
The company's revenue sources include:
Interest-bearing debt instruments with asset-backed collateral to securitize loans
Equity kicker of warrants coverage on original loan
Conversion ability of loan in its entirety
Advisory fees from contracts for consulting on growth strategies
Right of first refusal on future financing in each company funded
Investment Considerations
The first medical cannabis incubator and accelerator financing medical cannabis, CBD and hemp companies through a debt facility
Well-positioned to gain market share in the emerging cannabis market
Global legal marijuana market projected to be $146.4 billion by 2025
Pursuing opportunities in emerging markets and the unique market conditions in the cannabis industry enable unique growth for the company
Robust loan portfolio consisting of diverse, successful players in the cannabis industry
Actively looking beyond borders and creating global companies with strong fundamentals that are ready for expansion